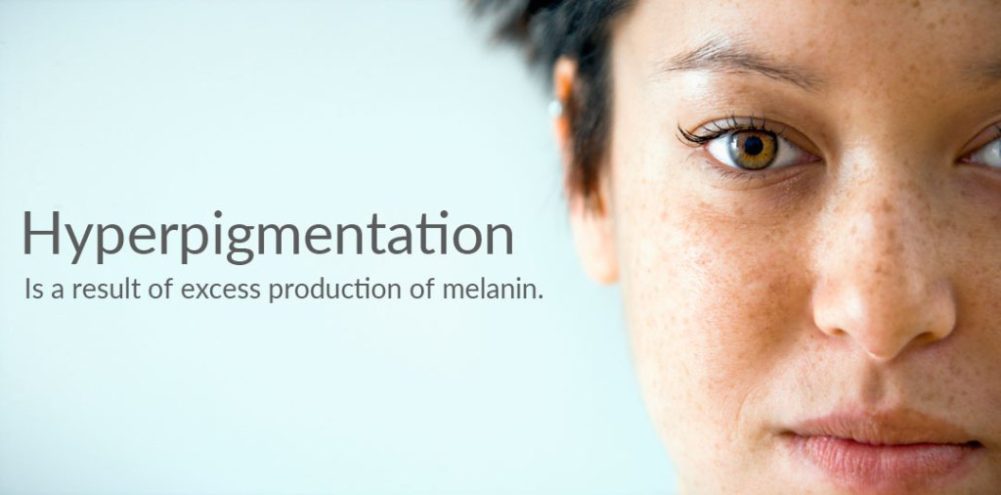 HYPERPIGMENTATION is a common, usually harmless condition in which darkened patches of skin appear on skin that are light brown to black in color, and can vary in size and shape. It is the second most common skin condition, affecting millions of people.
Hyperpigmentation is attributed to:
Overexposure to the sun and sun damage

Pregnancy and hormonal changes

Picking at your skin



PriyanaMD Skincare Protocol to Treat Hyperpigmentation:
AHA's & BHA's (Salicylic Acid and Glycolic Acid) found in VersaCleanse Bright Foam Cleanser and VersaPeel naturally exfoliate the skin, dry out excess oil, reduce skin irregularities, improve blemishes, and remove dead cells so that more radiant new skin can emerge.
Chemical Peeling Agents found in VersaPeel exfoliate the skin with five acids and three skin lighteners. This potent combination helps reduce blemishes, scarring, and excess oil and remove dead skin cells, creating skin uniformity, balance, skin radiance and overall improved skin health.
Hyaluronic Acid found in VersaPrime HylaSilk HA Intensive Serum hydrates skin from the inside out, increases ceramide production, and provides a plump, hydrated and lineless appearance.
Growth Factor & Stem Cells found in HylaCell GF Growth Factor stimulates cell-to-cell communication to initiate cellular repair, regulation, regeneration to restore the natural skin balance and youthful appearance.
Skin Lightening Mask found in 24K Gold Brightening Facial Mask calms skin, lightens and brightens skin, reduces lines/wrinkles, and provide an overall anti-aging benefits.
Retinol, Peptides, Stem Cells, and Vitamin C found in VersaLift Advanced Eye Restore + Lifting Cream with advanced VersaSphere encapsulation technology to exfoliate dead skin while delivering intense hydration, stimulate collagen production, increase barrier function, reduce puffiness, lighten skin, and increase circulation around the eyes.
Collagen found in VersaMask Collagen Eye Patches that cools, calms, hydrates and plumps skin to reduce lines/wrinkles, reduce crepey skin, and provide extra hydration.
Non irritating, calming, chemical-free and tinted sunscreen found in VersaTint SPF 30+ reduces inflammation and covers up redness while creating a porcelain appearance.
Types of Hyperpigmentation
Pigment-spots,

such as age spots, are caused by sun exposure. For this reason, they appear

mainly on body parts that are frequently exposed, such as the face, hands and arms. They tend to be small, darkened patches of skin and can look like freckles.

Melasma

or

chloasma

- is often referred to as "the mask of pregnancy", as it affects 90% of pregnant women and consists of larger darkening of areas on the face. It occurs as a result of hormonal influences such as pregnancy and birth control pills, and causes dark and irregularly shaped areas on the face or arms that can be quite large. (Please refer to our Melasma page if this is your skin concern)

Post-inflammatory hyperpigmentation

occurs when a skin injury or trauma heals and leaves a flat area of discoloration behind. It's commonly found among acne sufferers, and can also be caused by cosmetic procedures as the skin heals.

People of color are especially prone to postinflammatory hyperpigmentation (PIH), a condition in which dark spots appear on the skin in response to damage or trauma.