SCIENCE BEAUTY RESULTS
Description
VersaPeel® is a gentle, yet intense and effective, no-downtime at-home gel peel. VersaPeel is widely used in physician offices charging up to $300 per treatment. VersaPeel helps to reduce signs of sun damage, dull and uneven skin tones, scars, pigmentation, blemishes, and enlarged pores. A proprietary mix of acids and skin lighteners helps reveal clear, radiant, and glowing skin. VersaPeel is your personal Makeover in a Bottle® that helps to promote new collagen, reduce visible damage on the surface of the skin, and allow other skincare products to do their job more effectively.
As we age skin appears dull, thicker and less toned. To promote the synthesis of new collagen products with alpha hydroxy acids are recommended, which break down the bonds between cells of the stratum corneum and slough away dead skin. Our Microflake Technology mimics a medium-intensity peel, while hyperlapsing 30-min peel into under 5 min with no downtime and micronized shedding of dead skin cells. Instant radiant, smooth, brighter skin.
Benefits
Experience all of the benefits of a professional chemical peel done at home with no downtime
Cleans, exfoliates, and detoxifies skin to minimize skin irregularities resulting in smoother, more radiant and hydrated skin
Proprietary MicroFlake® technology to ensure optimum skin cell turn over without visible shedding of skin
Improves skin texture by transforming dead and damaged skin cells to visibly improved new skin
Reduces P-bacteria, oiliness while addressing scarring, damage, and pigmentation
Comes with an easy-to-use applicator brush and time chart
At home VersaPeel Makeover In A Bottle Instructions: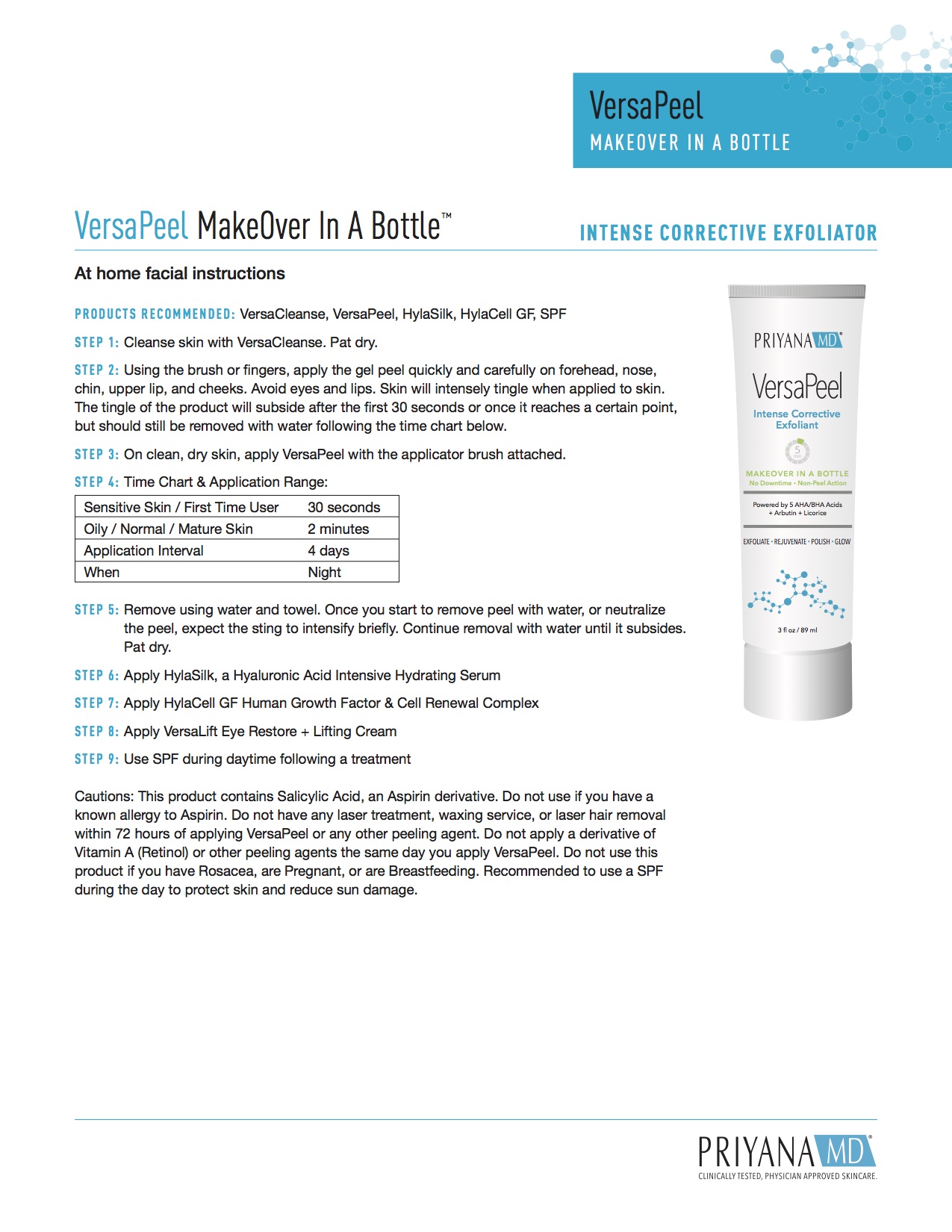 Ideal For
Acne, Comedones/Blackheads, Scars, Fine Lines/Wrinkles, Dull Skin, Hyperpigmentation, Melasma, Lightening / Brightening, Aging, Uneven Skin Tone, Sun Damage, Hydration, Detoxification
3 fluid ounces
Technology
Our Microflake Technology mimics a medium-intensity peel, while hyperlapsing 30-min peel into under 5 min with micronized shedding of dead skin cells. VersaPeel is formulated to exfoliate the stratum corneum, the very outer of skin that is comprised of 3-4 layers of dead cells. Once applied, VersaPeel desquamates (exfoliates/sloughs off) in Microflake non-visible dead skin and stimulates the new skin lying just beneath the surface. Our multi-part Alpha Hydroxy Acids/Beta Hydroxy Acids advanced delivery system at a specific Ph enables deep penetration into acne-prone and aging skin without the side effects of peeling.
As we age, cell sloughing becomes more difficult, resulting in skin that appears dull, thicker and less toned. Exfoliation is vital to skin health and beautiful skin. Removing this build-up of dead, damaged cells stimulates the regeneration of new cells, improving the skin's appearance, feel, and texture.
PriyanaMD Technologies
HylaCell®

Technology

Microflake Technology
X
VersaSphere Technology
HylaFoam HyperGlide Technology
Dual Encapsulation Delivery Technology
Boxless Product Packaging
X
Skincare Professional Use
Face: VersaPeel is used in back bar treatments by aestheticians either as a stand-alone treatment or in conjunction with other skin treatments. Dermatologists and Plastic Surgeons use VersaPeel to supplement
facials
microneedling
microdermabrasion
chemical peels, and
other in-clinical modalities
Doctors and practitioners use VersaPeel for neurotoxins (i.e., Botox) and dermal fillers / injectables (such as Juvederm, Sculptra, Restylane, and Radiesse). Practitioners generally prep the skin with VersaPeel for two minutes prior to the injection.
Body: VersaPeel is also used by aestheticians to prepare patients' skin for CoolSculpting and other body-related treatment modalities.
Call us today for a complete facial and body protocol sheet for VersaPeel.Adding VersaPeel to your professional menu will ensure patients have the best treatment and leave your office with radiant skin.
Available for Private Label: June 2018
Consumer Use
Face and Hands: Apply to clean, dry skin and follow the time chart. Skin will intensely tingle when applied. Apply product with a brush applicator or fingertips avoiding any open skin or wounds. Rinse, remove and pat dry. Water may cause a tingle sensation as you remove. Do not apply product close to the eye. Daily sunscreen required.
Application range:
Sensitive Skin or First Time Users: 30 seconds
Oily/Normal/Mature Skin: 2 minutes
Application Interval: Every 4 days
Caution: This product contains Salicylic Acid, an Aspirin derivative. Do not use if you have a known allergy. Discontinue use and contact emergency if you have signs of an allergic reaction hives, itching, difficult breathing, swelling of face, lips, tongue or throat. Keep out of reach of children. Do not have any laser, hair removal or wax treatment within 72 hours of using VersaPeel. Do not apply a derivative of Vitamin A or Retinol directly after using VersaPeel® as your skin will be more sensitive. Do not use this product if you have Rosacea, Pregnant or Breastfeeding.
Ingredient Integrity: Mother Nature Is Our Scientist

| Ingredient | Mother Nature | Science |
| --- | --- | --- |
| Water | X | |
| Glycolic Acid (Sugar) | X | X |
| Lactic Acid (Milk) | X | X |
| Sodium Hydroxide | | X |
| Ethylhexyl Palmitate | X | X |
| Polyaclyamide | X | |
| Salicylic Acid | X | X |
| Arbutin (Bearberry Plant) | X | X |
| C13-14 Isoparaffin | | X |
| Laureth-7 | X | X |
| Azelaic Acid | X | X |
| Kojic Acid | X | X |
| Glycyrrhiza Glaba (Licorice Root Extract) | X | X |
| Rosmarinus Officinalis (Rosemary Leaf Extract) | X | X |
| Helianthus Annus (Sunflower) Seed Oil | X | X |
| Mentha Piperita (Peppermint Oil) | X | X |
| Mentha Viridis (Spearmint Leaf Oil) | X | X |
Made in USA