Hyaluronic Acid Serum

– Anti Aging Skin Care Product For Wrinkles
An advanced corrective serum-gel, delivering a highly potent combination of peptides, vitamins and active ingredients formulated to increases the skins hydration, reduce the natural depletion of lipids and increasing moisture levels. This ultra-hydrating serum quenches dehydrated skin by increasing moisture levels and reducing redness and hyperpigmentation. Reviving and healthy tone, texture and visibly reducing the signs of aging, the skin appears brighter, firmer and rejuvenated.Our intense hydrating serum with HylaSilk technology promotes 10x more hydration in your skin and replenishes Hyaluronic Acid naturally back into your skin create plump, elastin rich complexion. This robust triple-action primer & lightweight natural hyaluronic acid serum for wrinkles delivers beautiful effortless radiant skin. It is an excellent solution for all skin types and helps binds moisture to the skin resulting in reduction of wrinkles, reduction of inflammation and overall improved appearance and complexion. Cleanly formulated with a high concentration of green tea, Hyaluronic Acid, peptides, vitamins, and amino acids give the appearance of a plumper and fuller hydrated finish. This super-charged silky serum has a cult-like following by makeup artists and consumers because it acts as a primer to help improve skin imperfections, reduce pore sizes and is a natural hyaluronic acid serum that replenishes hydration back into skin. Applied under makeup and nourishes skin from the inside out.
Benefits –
This lightweight serum suitable for all skin types is infused with Niacinamide (Vitamin B3) to help boost the skins immunity and improve skin's elasticity, strengthen skin's barriers, reducing fine lines and pores for a smoother, more youthful looking complexion. Also enriched with a blend of barrier repairing peptides and pure Hyaluronic Acid to lock in moisture and offer immediate, long-term hydration while fighting irritation caused by dryness and eliminating the look and feel of dry skin.
Suggested Skin Type: All
Benefits
Promotes 10x more hydration
Delivers beautiful effortless radiant skin
Natural replenishment of HA back into skin
Maximize the benefits of your daily moisturizer
Hyaluronic Acid Serum for Aging Skin and Natural Hyaluronic Acid for moisture in skin
Hydrating Skin Serum for all skin types with peptides
Anti Aging and wrinkle improvement with hyaluronic acid
Anti aging, pore minimizing skin tone primer hyaluronic acid serum
Oil free natural humectant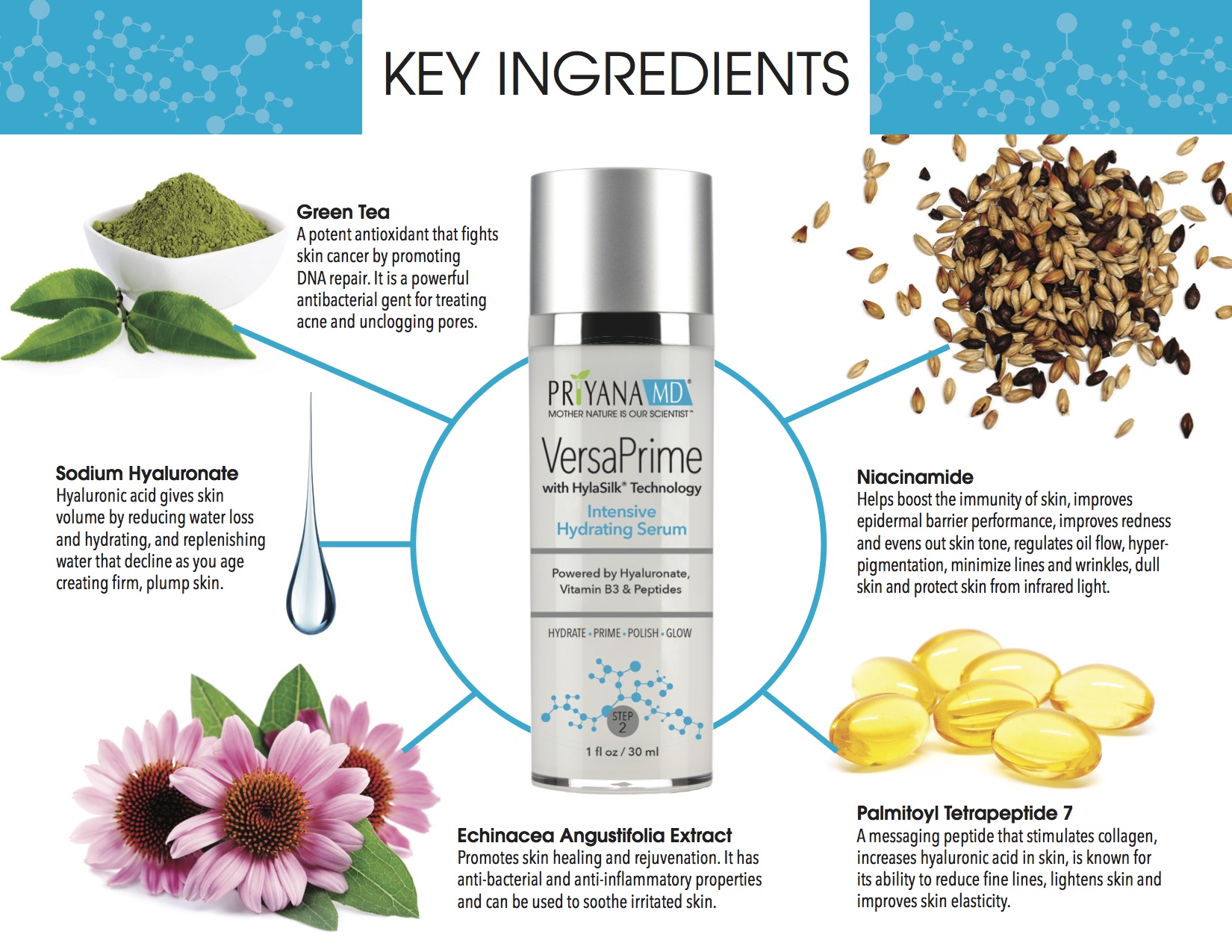 Technology
We used science and technology to combine three serums in one – anti-aging, primer, and pore-minimizer – and to deliver results and value to you. Our triple-action proprietary formula (at 14%+) includes amino acids and peptides found in $400 creams. HylaSilk has become our most universal and most valued product because of the visible results and value we deliver to skincare professionals and consumers alike.
PriyanaMD Technologies
HylaCell®

Technology

Microflake Technology
VersaSphere Technology
HylaFoam HyperGlide Technology
Dual Encapsulation Delivery Technology
Boxless Product Packaging
X
Skincare Professional Use
According to our aestheticians, standard protocol for esthetic procedures is to first apply HylaSilk, which is an overall skin balancing step for their diverse clientele. HylaSilk is a suggested as an at-home post-treatment regimen for:
chemical peels
non-ablative laser treatments
microdermabrasion
dermaplaning
microneedling
and other skin treatments.
Available for Private Label: Yes
Consumer Use
Apply one pump to clean, dry skin after cleansing to use as a primer before makeup or before intensive serums with stem cells. Apply to face, neck, chest AM/PM for best results. Daily sun protection is recommended.
HylaSilk's triple-action formula preps and primes the skin, allowing other skin care products to do their job.
Ingredient Integrity: Mother Nature Is Our Scientist

| Ingredient | Mother Nature | Science |
| --- | --- | --- |
| Water | X | |
| Glycerin | X | X |
| Sodium Hyaluronate Powder | X | |
| Palmitoyl Tetrapeptide 7 | X | X |
| Camellia Sinensis (Green Tea Leaf Extract) | X | X |
| Niacinamide (Pro Vitamin B3) | X | X |
| Butylene Glycol | | X |
| Polysorbate 20 | | X |
| Carbomer | | X |
| Phenoxyethanol | | X |
Made in USA