SCIENCE BEAUTY RESULTS

Description
Damage Control Rapid Skin Brightening, Calming & Luminosity Cream is the first step in an effective skin regimen for all skin types. It combines Vitamin C and DNA repair enzymes to recognize damage and start the body's natural DNA repair process. The unique formulation includes Antioxidants to fight free radicals, improving skin's barrier function.
Our Damage Control is the most innovative, science-rich formulation, targeting the skin's past, current and future damage while stimulating collagen, rejuvenation, and skin brightening. In other words, it treats visible and non-visible skin damage.
Ideal For
Skin Brightening, Aging, Rosacea, dry and sensitive skin, hydration, collagen production, rejuvenation, uneven skin tone, fine lines / wrinkles.
Benefits
The most technologically advanced form of Vitamin C + DNA Repair, Peptides, Antioxidants, Plant Stem Cells and Skin Brighteners all in one product
Helps to control past cellular damage and correct free radical damage before it hits the surface of the skin
Promote skin brightness, luminosity, skin balance and skin health
Helps improve aging, sun-damaged skin to create overall radiance while reducing inflammation
Helps control skin redness and calm skin
Your skin is the largest organ of your body and is as susceptible to free radical damage as any other organ. In fact, due to your exposure to the sun and other environmental factors, free radical damage to the skin is most likely greater than in any other organ system. Collagen and elastin fibers are extremely sensitive to free radicals and can be easily damaged by them causing visible signs of aging. Antioxidants are critical in helping to protect you from free radical damage. You can get as many as 1 million bits of damage per cell per day and DNA Enzymes jumpstart the bodies natural repair process to repair damage. Photolyase is one DNA enzyme and when ncluded in a skin care product, photolyase has been shown to reduce UVB radiation-induced DNA damage markers by 45% and to increase UV protection by 300%.
This advanced formula contains the next generation in new science ingredients with Vitamin C, Amino Acids, Ergotheinone, DNA Repair and skin lighteners to capture free radical damage caused by oxidative stress or sun damage to the skin and promote collagen synthesis.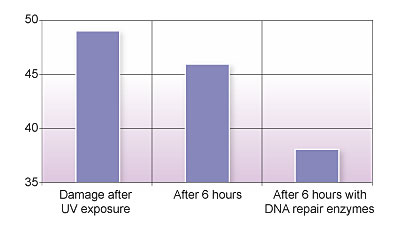 Free Radical Damage to Decode Aging and Recode Beauty?
Ergothioneine accumulates in highest concentrations in areas of the body that tend to experience large amounts of oxidative stress. Using this information as a starting point, scientists were able to pinpoint ergothioneine as a powerful antioxidant that is naturally present inside the nuclei of cells, as well as within mitochondria, which serve as powerhouses for cells.
So how exactly can this essential ingredient help you?
1. Correct Dark Spots and Hyperpigmentation
3. Minimize Dryness and Wrinkles
1 fluid ounce
Clinical Studies to Support DNA Repair and Tetrahexyldecyl Ascorbic Acid (Stable Vitamin C)
Topical ascorbic acid on photoaged skin. Clinical, topographical and ultrastructural evaluation: double-blind study vs. placebo. Exp Dermatol 2003;12:237-244.
Double-blind, half-face study comparing topical vitamin C and vehicle for rejuvenation of photodamage. Dermatol Surg 2002;28:231-236.
Topically applied vitamin C increases the density of dermal papillae in aged human skin. BMC Dermatol 2004;4:13.
Technology
We formulated Damage Control with Dual Encapsulation Delivery Technology that has groundbreaking, premium efficacy. DNA Repair Enzymes and Vitamin C each have specific and separate encapsulation technologies to ensure that ingredients reach the intended target – the dermis. This technology acts like a non-stop flight to the intended destination. These two ingredients work synergistically in two different pathways, acting as one mechanism to deliver these powerful ingredients.
PriyanaMD Technologies
HylaCell®

Technology

X
Microflake Technology
VersaSphere Technology
HylaFoam HyperGlide Technology
Dual Encapsulation Delivery Technology
X
Boxless Product Packaging
X
Skincare Professional Use
Damage Control plays a vital role in the following facial protocols offered at esthetics practices and spas:
Anti-Aging Vitamin C Facial

Vitamin Infusion Facial Treatment

European Facial with Vitamin C Treatment

VersaPeel with Active Vitamin Facial

Eye And Vitamin C Facial

Revitalizing Vitamin C Facials

Multi-Vitamin Hydrating Facial
Estheticians use Vitamin C Infused Facials because vitamins applied topically to the skin deliver a number of benefits for the complexion. Vitamins aren't just good for the body – when you're an esthetician, they're also great for business!
Available for Private Label: Yes
Consumer Use
Apply 1 pump to clean, dry skin. Apply to face, neck & chest AM/PM for best results. Follow with daily sun protection is recommended.
Ingredient Integrity: Mother Nature Is Our Scientist

| Ingredient | Mother Nature | Science |
| --- | --- | --- |
| Water | X | |
| Isononyl Isononanoate | X | |
| Caprylic/Capric Triglyceride | X | |
| Glycerin | | X |
| Cyclomethicone | | X |
| Peg-100 Stearate | | X |
| Glyceryl Stearate | | X |
| Cetyl Alcohol | X | X |
| Cetearyl Alcohol | X | X |
| Sclerotium Gum | | X |
| Ergothioneine | X | X |
| Isohexadecane | | X |
| Arabidopsis Thaliana Extract | X | X |
| Citrus Limon (Lemon) Fruit Extract | X | |
| Citrus Aurantium Dulcis (Orange) Fruit Extract | X | |
| Pyrus Malus (Apple) Fruit Extract | X | X |
| Camellia Sinensis (Green Tea) Leaf Extract | X | X |
| Hordeum Distichon (Barley) Extract | X | |
| Evodia Rutaecapra Fruit Extract | X | X |
| Santalum Album (Sandalwood) Extract | X | |
| Phellodendron Amurense Bark Extract | X | X |
| Glycyrrhiza Glabra (Licorice) Root Extract | X | X |
| Epilobium Angustifolium Flower/Leaf/Stem Extract | X | X |
| Saccharum Officinarum (Sugarcane) Extract | X | X |
| Tetrahexyldecyl Ascorbate | X | X |
| Tocopheryl Acetate | X | X |
| Retinly Palmitate | X | X |
| Lecithin | X | X |
| Panthenol | X | X |
| Ceteareth-20 | X | X |
| Butylene Glycol | | X |
| Polysorbate 80 | | X |
| Carbomer | | X |
| Sodium Acrylate/Sodium Acryloyldimethyl Taurate Copolymer | | X |
| Disodium Edta | | X |
| Phenoxyethanol | | X |
| Ethylhexylglycerin | | X |
| Sodium Hydroxide | | X |
Made in USA