SCIENCE BEAUTY RESULTS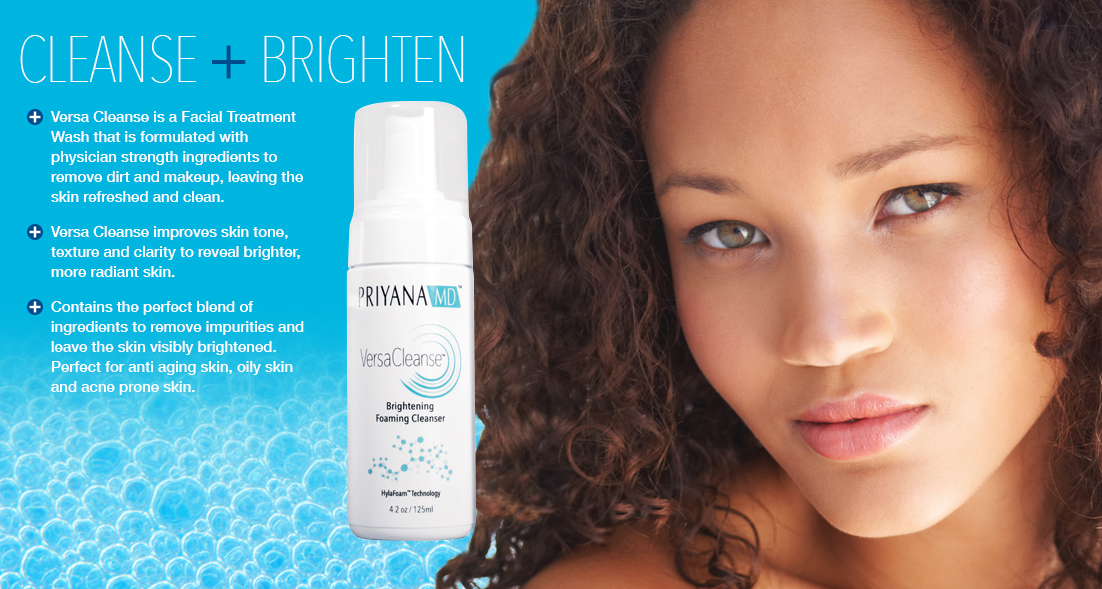 Description
VersaCleanse is a brightening foaming cleanser with 5% acids. It acts as a facial treatment wash that helps improve skin tone, texture, and clarity – revealing brighter, more radiant skin. Formulated with active ingredients to remove dirt, oil, and makeup, this cleanser is suitable for anti-aging, oily, and acne-prone skin.
Promoting the Synthesis of New Collagen
There are many ways to promote the synthesis of new, healthy collagen. One way to promote the synthesis of collagen is to use chemical exfoliants, such as alpha hydroxy acids (AHA's), which break down the bonds between cells of the stratum corneum and slough away dead skin such in VersaCleanse or VersaPeel. Consistent exfoliation stimulates cell renewal. Chemical exfoliation has also been shown to increase dermal thickness. Scientists attribute this dermal thickening to the synthesis of glycosaminoglycans and collagen within the dermis.
Benefits
Contains a built-in toner
Removes all makeup with ease
Daily treatment exfoliating wash that helps to reduce pigment, dead skin cells and illuminate dull skin tone
Leaves skin super soft, bright and luminous and improved complexion
Contains Glycolic Acid (AHA) and Salicylic Acid (BHA) that help to unclog oil glands and dirt
Uses new HylaFoam® Technology that helps nourish skin while delivering active ingredients
Calms the skin with anti-inflammatory and anti-microbial ingredients
Ideal For
Exfoliation, skin brightness, skin blemishes, makeup remover, hydration, calming, cooling, lines / wrinkles, aging, rejuvenation, uneven tone and texture, post-procedures, dull skin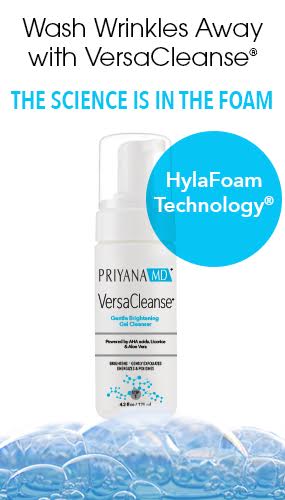 4.2 fluid ounces
Technology
The unique HylaFoam Technology drives active ingredients into the skin by removing dead skin cells through our MicroFlake Technology, resulting in no down time or visible signs of exfoliation. The active ingredients suspended in foam are able to work invisibly to have the most profound exfoliation and brightening capabilities. The foam also allows easy gliding across the skin, leaving noticeable improvements in lines/wrinkles, pigment and overall skin rejuvenation.
PriyanaMD Technologies
HylaCell®

Technology

Microflake Technology
X
VersaSphere Technology
HylaFoam HyperGlide Technology
X
Dual Encapsulation Delivery Technology
Boxless Product Packaging
X
Skincare Professional Use
VersaCleanse Foam Cleanser is the esthetician's choice during:
Facials

Chemical peels

Dermaplaning, and

Other skincare treatment services
Our HylaFoam Technology was created to allow skin care professionals to apply VersaCleanse without the use of water as some treatment rooms are not equipped with plumbing. Estheticians use VersaCleanse to jumpstart their treatment by removing skin impurities, makeup, and oil/dirt. The foam is simple to remove with gauze and water and can also be easily rinsed off. With VersaCleanse, the skin looks radiant and is ready for the next steps in skincare treatments.
Available for Private Label: Yes
Consumer Use
Apply 1-2 pumps to dry or damp skin and rub gently. Let sit on skin for 10-30 seconds. Remove and pat dry.
Ingredient Integrity: Mother Nature Is Our Scientist

| Ingredient | Mother Nature | Science |
| --- | --- | --- |
| Water | X | |
| Cocamidopropropyl | X | X |
| Betaine | | X |
| Disodium Glycol | | X |
| Aloe Barbadensis Leaf Extract | X | |
| Salicylic Acid | X | X |
| Sodium Hydroxide | X | X |
| Witch Hazel | X | |
| Epilobium Angustifolium Flower/Leaf/Stem Extract | X | X |
| Saccharum Officinarum (Sugar Cane) Extract | X | |
| Citrus Lemon Fruit Extract | X | |
| Orange Fruit Extract, Pyrus Malas Fruit Extract | X | |
| Camellia Sinensis (Green Tea) Leaf Extract | X | |
| Tocopheryl Acetate | X | X |
| Sodium PCA | X | X |
| Panthenol B5 | X | |
| Citrus Aurantium Dulcis (Orange) Peel Oil | X | |
| Citrus Grandis (Grapefruit) Peel Oil | X | |
| Phenoxyethanol | | X |
| Ethylhexylglycerin | | X |
Made in USA