Description
Our intense hydrating serum with HylaSilk technology is a premium instant Hyaluronic Acid anti-aging serum. This robust triple-action primer & lightweight natural hyaluronic acid serum for wrinkles. It is an excellent solution for all skin types and helps binds moisture to the skin. Cleanly formulated with a high concentration of green tea, Hyaluronic Acid, peptides, vitamins, and amino acids give the appearance of a plumper and fuller hydrated finish. This super-charged silky serum has a cult-like following by makeup artists and consumers because it acts as a primer to help improve skin imperfections, reduce pore sizes and is a natural hyaluronic acid serum that replenishes hydration back into skin. Applied under makeup and nourishes skin from the inside out.
We're sure you know precisely the value of keeping your body hydrated for a ton of different reasons. One of the most important steps in skincare is hydrating your skin! Unfortunately as we age, we loose hydration and it is vital that we replenish this hydration with a natural hyaluronic acid serum. One beauty myth is that moisturizing your skin can leave you greasy and oily but the truth is, it's the complete opposite. Purposely withholding moisture from your skin for fear of producing more skin oils is exactly what produces more oils! The trick is to choose the right type of moisturizer for your skin. By adding a hyaluronic acid anti-aging serum to your routine you will see improvements in skin tone, texture, skin radiance, skin pulpiness, skin hydration and skin rejuvenation. It is also a natural hyaluronic acid serum for wrinkles so you will see visible improvements in skin rejuvenation Hyaluronic Acid helps your skin lock in the moisture better and ensure that it hydrates your skin for longer. A lightweight moisturizer that has all the skin benefits of natural Hyaluronic Acid, Peptides and Vitamins is VersaPrime HylaSilk by PriyanaMD. This serum is both a moisturizer and skin primer in one and is an amazing skin hydration serum.
Suggested Skin Type: All
Benefits
Promotes 10x more hydration
Maximize the benefits of your daily moisturizer
Oil free natural humectant
Dual purpose product also acts as a silky smooth primer
Add Natural Hyaluronic Acid anti-aging serum back into skin
Natural Hyaluronic Acid Serum for Wrinkles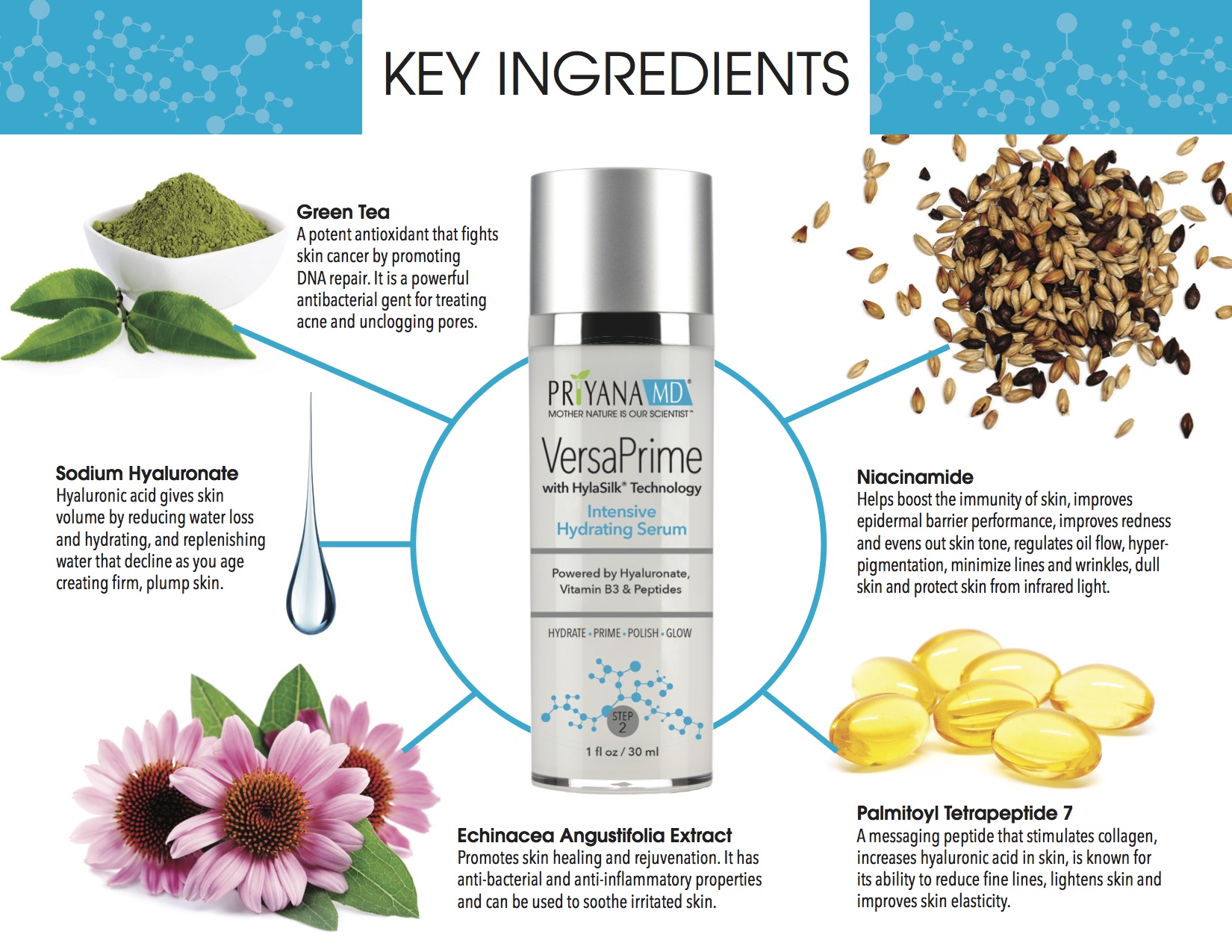 Technology
We used science and technology to combine three serums in one – anti-aging, primer, and pore-minimizer – and to deliver results and value to you. Our triple-action proprietary formula (at 14%+) includes amino acids and peptides found in $400 creams. HylaSilk has become our most universal and most valued product because of the visible results and value we deliver to skincare professionals and consumers alike.
PriyanaMD Technologies
HylaCell®

Technology

Microflake Technology
VersaSphere Technology
HylaFoam HyperGlide Technology
Dual Encapsulation Delivery Technology
Boxless Product Packaging
X
Skincare Professional Use
According to our aestheticians, standard protocol for esthetic procedures is to first apply HylaSilk, which is an overall skin balancing step for their diverse clientele. HylaSilk is a suggested as an at-home post-treatment regimen for:
chemical peels
non-ablative laser treatments
microdermabrasion
dermaplaning
microneedling
and other skin treatments.
Available for Private Label: Yes
Consumer Use
Apply one pump to clean, dry skin after cleansing to use as a primer before makeup or before intensive serums with stem cells. Apply to face, neck, chest AM/PM for best results. Daily sun protection is recommended.
HylaSilk's triple-action formula preps and primes the skin, allowing other skin care products to do their job.
Ingredient Integrity: Mother Nature Is Our Scientist

| Ingredient | Mother Nature | Science |
| --- | --- | --- |
| Water | X | |
| Glycerin | X | X |
| Sodium Hyaluronate Powder | X | |
| Palmitoyl Tetrapeptide 7 | X | X |
| Camellia Sinensis (Green Tea Leaf Extract) | X | X |
| Niacinamide (Pro Vitamin B3) | X | X |
| Butylene Glycol | | X |
| Polysorbate 20 | | X |
| Carbomer | | X |
| Phenoxyethanol | | X |
Made in USA